Delivering on Disinfection: The Steris Cart Washer


An alarm blares through the Medical Device Reprocessing Department in the hospital's basement, notifying the crew that another cleaning cycle of surgical tools has been complete.
The large sliding door opens slowly on the machine, revealing a spotless cart filled with disinfected instruments to be packed for the next day's surgeries.
As one worker carefully removes the clean cart from one side of the washer, another pushes a new cart – stocked with patient wash basins and other containers – through the opposite end.
In roughly 15 minutes, that cart will be disinfected too.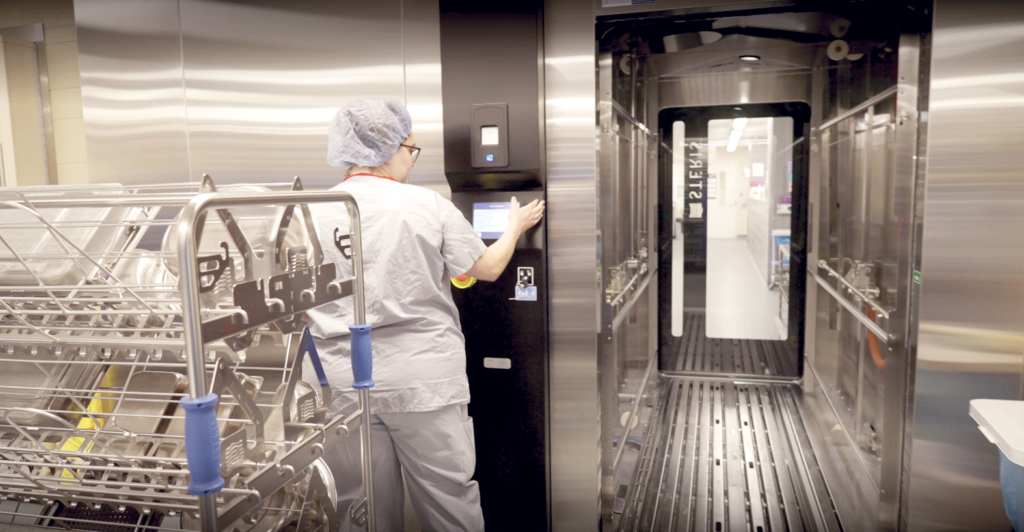 The new, highly efficient cleaning system takes up approximately 100 square feet of space – the size of a typical single-car garage.
It's been running at an almost constant pace since it was installed in February, cleaning, disinfecting and drying countless instruments and tools that serve patients all over the hospital.
The cart washer is a behind-the-scenes all-star at St. Mary's.
"Our old cart washer was consistently going out of service and causing our team to have to hand wash items – and that put quite an increase demand on our staff," says Aimee Messner, program manager of ambulatory care.
"This new cart washer ensures the entire hospital, especially the operating rooms, are not delayed in getting disinfected supplies."
The work done by MDRD on a daily basis cannot be overlooked. Staff there ensure each department of the hospital gets the disinfected tools it needs when it needs them.
Surgical case carts are packed hours in advance for every scheduled operation. For emergency surgeries, individualized packs can be assembled in 10-15 minutes once doctors notify MDRD staff of the required items.
Having just one tool missing from a pack can delay a surgery, impacting not only that patient but the other scheduled operations that follow.
A donor-funded washer that speeds up the cleaning process helps with workflow and ensures St. Mary's can keep up with its patients' needs.
The washer offers 100 percent disinfection per cycle:
Heat and chemical detergents are used to clean instruments and other reusable items
The average cycle lasts 10 minutes for surgical carts and 17 minutes for utensils and containers
More environmentally friendly: It uses up to 75 percent less water per cycle than older washer models


Want to see the Steris Cart Washer in action? Watch the video below.